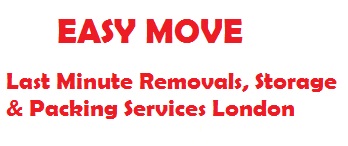 24/7 Whatsapp for Pictures and QuickQuotes: 074 6634 3362
24/7 Call us on: 0800 345 7279

24/7 Last Minute Removals, Storage, Packing Services London
Best Quality Packing Services Lowest Cost Storage in Central London
Welcome To Easy Move
House Removals - Domestic Removals - Moving House
Home Removal Services has gained enough experience in the removals trade to cater for all sorts of moves includinghouse removals.

Our team is extremely friendly and professional and will deliver your belongings in the exact manner they have done for our thousands happy customers.

Your House Removals will be carried out with the most up-to-date tools and equipments.

Our top of the range vans with tail lifts are in place to make the house moving process even more pleasurable, not only for you and your belongings but also for our lovely and hard working team.

In addition, our Sales Advisor team can give you ideas and suggestions on how to make the moving process even easier by asking very simple questions regarding your move.

As every house move is different, our friendly sales team can advice on issues such as parking restrictions/dispensations, self storage facilities, packaging materials and much more.


.
Get an Estimate
Our Friendly Trained Staff are here to help with any Questions you have - call us on
02078010018